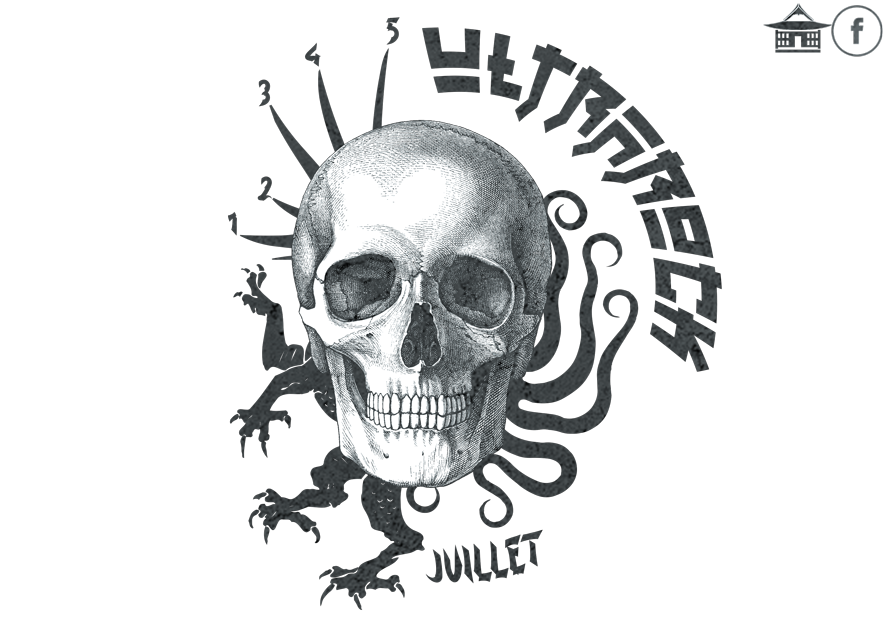 Juillet, bas les masques et feu le couvre-feu ! Voici les nouveautés METAL d'ULTRAROCK :




---- Playlist du 02 juillet ----
Super fresh !

ALIEN WEAPONERY
Tangaroa (Tangaroa)
05'39
BULLET FOR MY VALENTINE
Knives (Bullet For My Valentine)
09'50
MACHINE HEAD
Become The Firestorm (Arrows In Words From The Sky)
14'50
JASON PAYNE & THE BLACK LEATHER RIDERS
The Dark feat. Daisy Pepper (The Abyss EP)
18'37
EX DEO
Imperator (The Thirteen Years Of Nero)
22'42
JINJER
Vortex (Wallflowers)
26'42
DON BROCO
Manchester Super Reds No.1 Fan (Amazing Things)
29'29
NO ONE IS INNOCENT
Forces Du Desordre (Ennemis)
34'09
PAIN
Party In My Head (single)
37'16
LAST TEMPTATION
I Don't Wanna Be Your God (single)
43'13
SERJ TANKIAN
How Many Times, (Elasticity)
47'26
GUS G
Fierce (single)
51'37
WARKINGS
Fight (Revolution)
55'40
VAN CANTO
Dead By The Night (To The Power of Eight)
59'16
DANKO JONES
Saturday (Power Trio)
01h02'30
BOWLING FOR SOUP
Where's The Love feat.Hanson
01h07'26
SCREAMING SHADOWS
Free Me (Legacy Of Stone)
01h11'43
SCARLETH
Feel The Heat (Vortex)
01h15'40
THE NIGHT FLIGHT ORCHESTRA
Burn for Me (single)
01h19'23
THE NEAL MORSE BAND
Do It All Again (Innocence & Danger)
01h28'11
KRYPTOS
Force Of Danger (Force of Danger)
01'33'55
RITUAL BOOGIE
Monkey Scream (Monkey Screams)
0h'40'06
RIOT AT THE MOONSHINE BAR
Lonely Man (R.A.T.M.O.B)
01h45'05
KEITH WALLEN
It Finds Us All (single)
01h49'09
BLUTENGEL
Wir sind das Licht (Erlösung - The victory Of Light)
01h53'38
FRAU FLEISCHER
Baby I'm Free (single)
01h57'28
FIT FOR RIVALS
Damage (Steady Damage)
02h00'29
ALL AGAINST
Sociedade Hostil (I Am Alive)
02h02'25
ZEAL & ARDOR
Run (single)
02h06'43
GO AHEAD AND DIE
G.A.A.D (Go Ahead And Die)
02h11'14
CARNIFEX
Pary For Peace (Graveside Confessions)






---- Playlist du 09 juillet ----
VALCATA
Tower (single)
05'32
EYES WIDE OPEN
Devastation (single)
09'10
PSYCHO VISIONS
Everywhere yet Nowhere (Our Own)
13'07
HIDDEN INTENT
Breaking Point (Dead And Destiny)
16'49
DROWN THIS CITY
Borderline Existence (Colours We Won't know)
19'55
CELLAR STONE
Found My Way (One Fine Day)
24'52
CROWNE
Unbreakable (Kings Of The North)
28'40
RAWTISM
Stay Metal (Raw And Off it's Head)
34'02
WIZARD
Quick Violence (Definitely Unfinished)
37'35
HAMMERS OF MISFORTUNE
Sacrifice The End (The Bastard)
46'28
PRIMAL CREATION
A Post-truth Order (News Feed)
51'55
NIHILANTH
Inversion Of Values (Graceless Planet)
56'01
SHADOWSPAWN
Daughters of Lot (single)
59'53
GRAVE MIASMA
Rogyapa (Abyss Of Wrathful Deities)
01h06'38
IN THE WHALE
Smoke Break
01h09'44
VICIOUS GRACE
SilverLining (Glace Houses)
01h14'44
THE SPECTRE BENEATH
The Premature Burial (The New Identity of Sidney Stone)
01h23'05
LA NAUSEE
Split (single)
01h25'52
EXMORTEM
The Grim Wrecker (Berzerker Legions - reissue)
01h28'23
PLAGUEWIELDER
Black Mysticism(Covenant Death)
01h33'37
CONQUERORS
Crushing the Faith (Stormbringer)
01h37'06
CONQUERORS
Iron Blood (Dawn of War)
01h42'08
MOROST
Protector of Sanity (Forged Entropy)
01h51'04
ODEUM DEUS
Bend and Obey (Brutal Slaughter)
01h54'10
LUPE
Long Train (Dark Room)
01h57'45
SOMNURI
In the Grey (Nefarious Wave)
02h04'12
PERILAXE OCCLUSION
Incalculable Thresholds (Raytraces Of Death)
02h10'39
VETTER
Morgensolens Rike (Av Sublim natur)








---- Playlist du 16 juillet ----
qui commence par un titre de presque 40 minutes !
EARTHLESS
Lost In The Cold Sun (Live In The Mojave Desert)
39'05
POP EVIL
Worst In Me (Versatile)
42'26
MONSTER MAGNET
Solid Gold Hell (A Better Dystopia)
45'50
THE CROOKS
I Wonder (single)
49'01
CELTIC HILLS
The Tomorrow of our Sons (Mystai Keltoy)
52'31
SKRAECKOEDLAN
Arise the Sun (Appelträdet)
56'37
SKYHAMMER
The Skyhammer (The Skyhammer EP)
01h03'14
CIRCUS OF ROCK
Desperate Cry
01h08'02
AVALANCHE
Get Back (To Fuckwit City) (Second Hand Band)
01h13'16
LINDEMANN
Knebel (Live) (Live In Moscow)
01h17'44
THEM GUNS
Shot In The Dark (single)
01h21'45
WITCH HUNT
Hijos del Fuego (Rock'n Roll Possession)
01h25'55
TOMBSTONER
Breaking Point (Victims of Vile Torture)
01h29'35
VELVET STARLINGS
Back of the Train
01h32'04
ENEMY AWAKE
Cryonation (Fallen World)
01h35'49
DISFUNERAL
Coffinement (st demo)
01h39'12
MOLIS SEPULCRUM
The Agony Of Decease (Left For The Worms)
01h42'22
UNGFELL
Mord im Tobel (Es Grauet)
01h48'37
ZGARD
Ascension Fog (Place of Power)
01h54'56
DEVIL SOLD HIS SOUL
Witness Marks (Loss)
02h02'54
DJEVEL
Englene Som Falt Ned I Min Seng, Skal Jeg Sette Fri Med Brukne Vinger Og Torneglorier (Tanker Som Rir Natten)








---- Playlist du 23 juillet ----

GEOMETRY OF CHAOS
Spiral Staircase (Soldiers of The New World)
08'06
MAYANK
Destiny Calling (Mayank)
11'09
SHOTGUN MISTRESS
Bleed Me Out (Shotgun Mistress)
15'12
POWERWOLF
Beast of Gévaudan (Call of The Wild)
18'42
NIGHT RANGER
Breakout (ATBPO)
22'55
JIZZY PEARLS LOVE HATE
Soul Mama (single)
26'52
KING ZEBRA
Wall of Confusion (Feat. Guernica Mancini)
30'18
HEAVEN & EARTH
Drive (V)
35'05
MORGARTEN
Tales of My Lands (Cry of The Lost)
41'31
DEATHCHANT
Black Dirt (Waste)
45'14
CIRITH UNGOL
Shelob's Lair (Half Past Human)
50'14
EYES
Get Out Of My Head (Perfect Vision 20-20)
55'08
MC ROADS
Call It What You Want (single)
59'30
GHOSTS OF SUNSET
No Saints In The City (single)
01h03'52
THE CHAINSAW MOTEL
King of Misery (King of Misery)
01h06'48
TIMECHILD
And Yet It Moves (And Yet It Moves)
01h10'45
ROBOTS OF THE ANCIENT WORLD
Agua Caliente (Mystic Goddess)
01h14'34
THE MAMMUTHUS
Riddles (Last Trumpet Of A Giant)
01h20'55
ANCIENT WISDOM
The Coronation (A Celebration In Honor Of Death)
01h29'04
MANNVEIRA
Í köldum faðmi (Vitahringur)
01h38'09
DUSK IN SILENCE
The Goddess of Eclipse (Beneath The Great Sky of Solitude)
01h43'49
DESASTER
Failing Trinity (Churches Without Saints)
01h47'13
GORETHRONE
Acid Bath (The Descension)
01h50'53
THE ABSENCE
Cathedral Dawn (Coffinized)
01h55'16
NIXIL
Make Me The Voice (All Knots Untied)
02h01'24
PRAISE THE PLAGUE
Great Collapse (The Obsidian Gate)
02h10'22
OTARGOS
Apex Terror (20 Years of Human Termination)







---- Playlist du 30 juillet ----

THE VERY END
On Parole (Zeitgest)
04'35
THE GAZETTE
Blinding Hope (Mass)
08'57
THE DEVIL WEARS PRADA
Forlorn (ZII)
12'52
KAONASHI
Market Street (Chardonnay, Diamonds, Me) (Dear Lemon House, You Ruined Me Senior Year)
17'20
ALBERTOOTH LINCOLN
Mother is Coming (single)
21'29
GREYFACE
Underground Star (single)
24'47
SEEYOUSPACECOWBOY
SYSC x IIDF (Bloodstainedeyes)
29'45
BLACK SUN BROTHERHOOD
Black Sun Rising (God & Beast)
33'49
SATURNIAN MIST
Altar of Flesh And Blood (Shamatanic)
42'06
FROST
The Boy Who Stood Still (Day And Age)
49'39
VOLA
24 Light-Years (Witness)
54'06
SCREAMING SHADOWS
Free Me
58'25
RHAPSODY OF FIRE
I ll Be Your Hero (I ll Be Your Hero)
01h02'33
7 DAYS
The Darkest Winter (The Weight of The World)
01h08'12
TRINITY OF EVIL
Trinity Of Evil (Giotopia)
01h'16'52
TRICK OR TREAT
Heavy Metal Bunga Bunga (the Unlocked Songs)
01h20'29
HELLRYDER
Jekyll & Hyde (The Devil is a Gambler)
01h22'57
VELVET INSANE
Backstreet Liberace (Rock n Roll Glitter Suit)
01h26'30
SLAMDINISTAS
Little Troublemaker (live)
01h28'58
HANGMAN'S CHAIR
Cold And Distant (single)
01h34'04
OPPROBE
Indifférence (Fragments de Destinée)
01h46'47
ALASTOR
Death Cult (Onwards and Downards)
01h50'59
IMPALED NAZARENE
The Nonconformists (Eight Headed Serpent)
01h53'37
RAMCHAT
Ladová plán (Znelo lesom)
01h58'07
WANDERER
Abrasion (Liberation From a Brutalist Experience)
02h00'23
HOWLING GIANT
Luring Alluring Rings (Alteration)
02h07'16
ABYSSIELLE
Dawn (Cosmic Ritual)
02h12'19
NEFASTES
Make Apocalypse Great Again (Scumanity)
02h16'27
OLORIN
The Endless Stair (Through Shadow and Flame)
---- top ----