Okkult in 2013 and Okkult II in 2018. Why so many time in between?
Alexander: I'm having meetings, I'm talking with people. And I took some time to go deeper on certain subjects. There is no fantasy in my texts. Just real facts and experience.
So do you read a lot?
Alexander: Yes! When I have time for myself. It's my job too into the band. Well If we can call that a job.
Where do your cover album designs come from?
Alexander: The artwork is made by Stefan Heilemann. It's the first time I talk about that. But I met him in a hotel. Stefan was studying graphism, and was staying in the next room. He knocked at my the door because he heard metal music. And that's how it all started.
How do you work? You're talking about famous historical facts (Black Sun, wicker man, war...). I'm thinking about victims in History.
Alexander: The facts I'm talking about are dark and strong facts that obsess me. One of the subjects is particularly important to me, and I wanted to talk about the children who suffered from these atrocities.
Your name's band comes from your song Eae atrocitates Neronis . This song could be the first of Okkult's trilogy. What do you think about this idea?
Alexander: We were conscious that by naming a german band ATROCITY, people would ask a lot of questions. And yes, we can think that Eae Atrocitates Neronis could be the first track of the trilogy. Yeah, you're right!
Do you think about writing a song in Latin? Because you already used Latin.
Alexander: Yes, I thought about that. And German latin was actually my favourite class.
Do you express your art through another way? A fantastic book for example!
Alexander: Yeah! Why not? Thank you for the idea! (Laughs)
Do you think about performing shows, festivals to promote Okkult ?
Alexander: Yeah! Shows are already planned. And we would like to go to the Hellfest. Hope to talk about that very soon! (Laughs) I think all festivals are great here, because we can have some great shows. Yes, European festivals are a very good option.
I think you write for the Memory, for people, to keep facts. What do you think about that?
Alexander: Yeah, you can call that like that.
To teach something?
Alexander: Well, I can't say that a metal band could be a teacher! (Laughs) They're just some songs, but there is heavy music behind also.
What do you think about the « Interview – Live sketching » concept?
Alexander: In forty years of career, it's the first time I'm having this experience. I think it's great! (Laughs)
Thank you very much for your answers and for your artwork. Do you have anything else to say to the readers of ULTRAROCK?
Alexander: Yes! Thank you for this very interesting interview. You were very well prepared! And thank you for these sketches!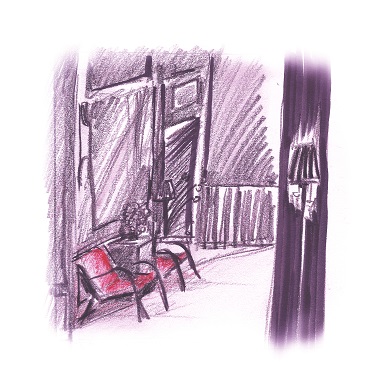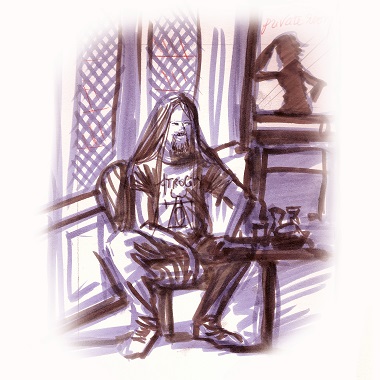 Anighel (journaliste) and Agnès (live sketching : https://www.instagram.com/agnesillustrations/))